This post is obviously to show you how I make them. For those that do not wish to make one themselves, I plan on making these to sell. If I have any ready and available, they will be listed in the buy sale & trade forum.
First you need two cylinders just to make one.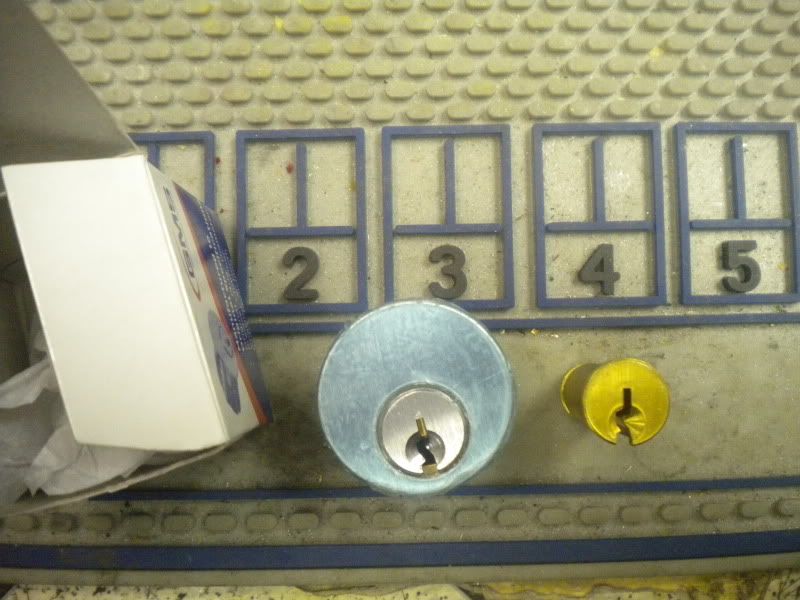 Then disassemble them. I don't plan on re-using the pins that came in the lock so they aren't pictured here.
To mill away the top part of the cylinder to support the sliding piece. I use a separate housing that has been cut apart. This allows me to clamp it in the key machines jaws and mill it away. I tend to eyeball things, so I don't have any exact measurements. I just set the cutter at a depth that seems right, lock it in place. Then lock in the X (or is it Y) axis? And cut forwards and backwards. Then readjust the x axis and cut forwards and backwards etc...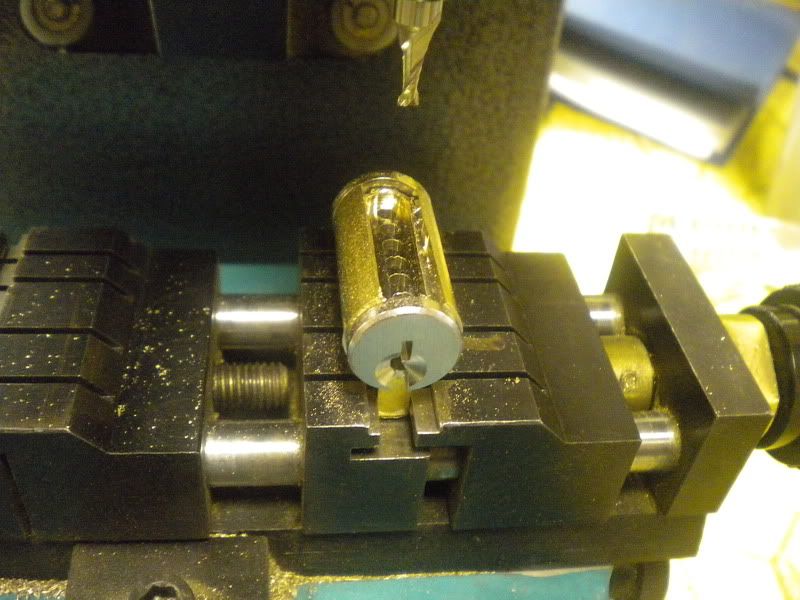 A little deburring and cleaning and this is what's left!
I use a Craftsman Multi-tool to save a lot of time on cutting out the slider piece out of the other cylinder.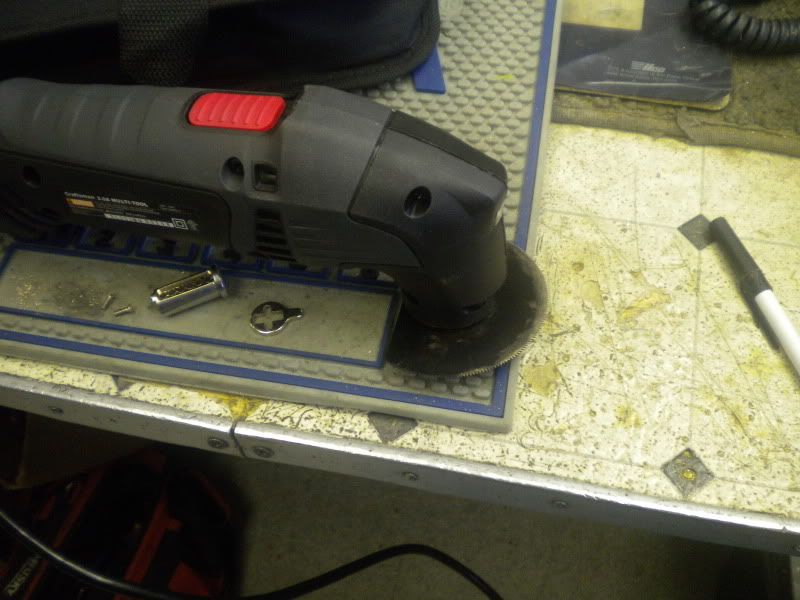 Clamp the cylinder in a vice jaw like so.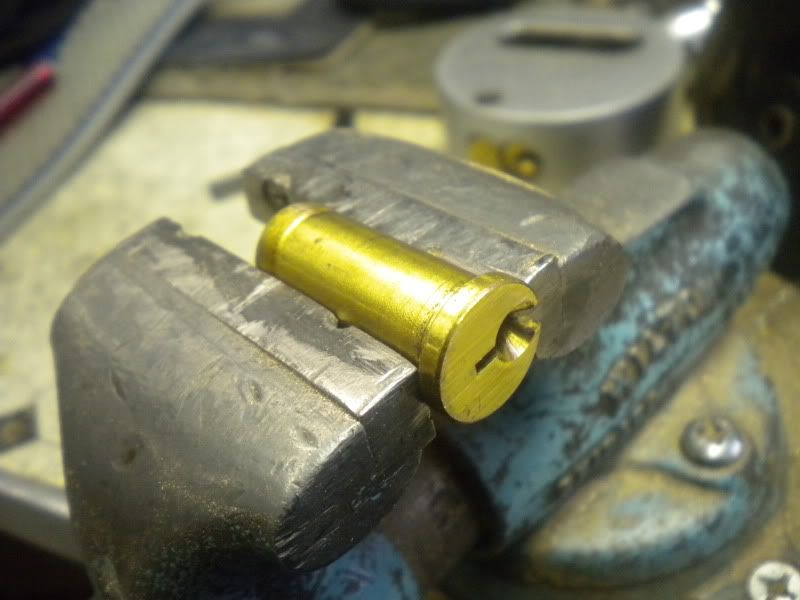 Cut a nice groove in it. Seriously the multi-tool saves a lot of time.
Turn the cylinder around and cut another groove.
Put the cylinder in the vice like so and cut a groove before and after all the chambers. Then start cutting the top off.
Once you have the piece cut off. It shouldn't fit into the milled out cavity yet. If anything you want it over sized so it can be filed down to perfection (or something close).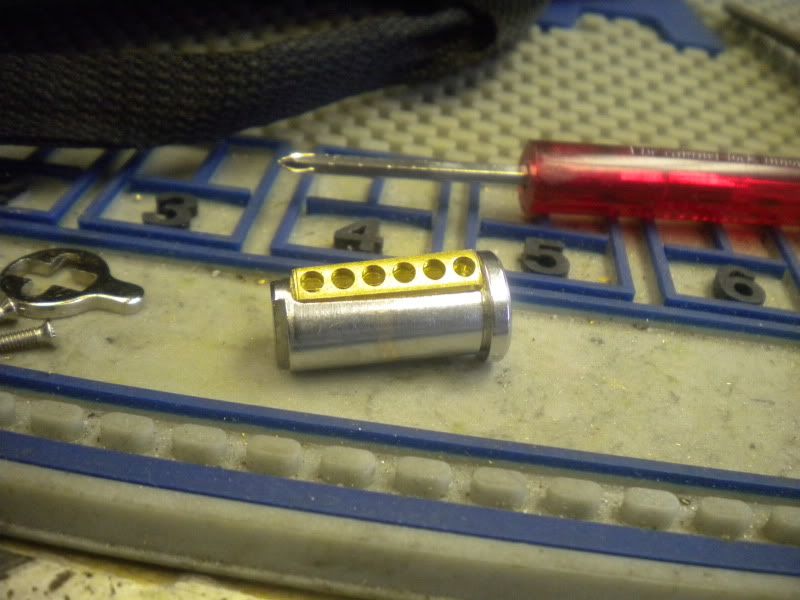 After filing down the corners and sides a little bit it should fit a little better. But should still be too tall.
Then next trick is to file down the entire thickness of the slider to the correct thickness. I've learned the easiest way to do that is if it is held in place while filing. So I take to pins that I'm not going to use, press them into the slider. The slider isn't deburred at this point so if you can get them in they will stay long enough for you to clamp them in the vice.
Make sure you can pull it off the pins at anytime so you can check how close to perfection it is at any time.
Once it's perfect, the slider should be able to move around (left/right) with ease while inside the housing.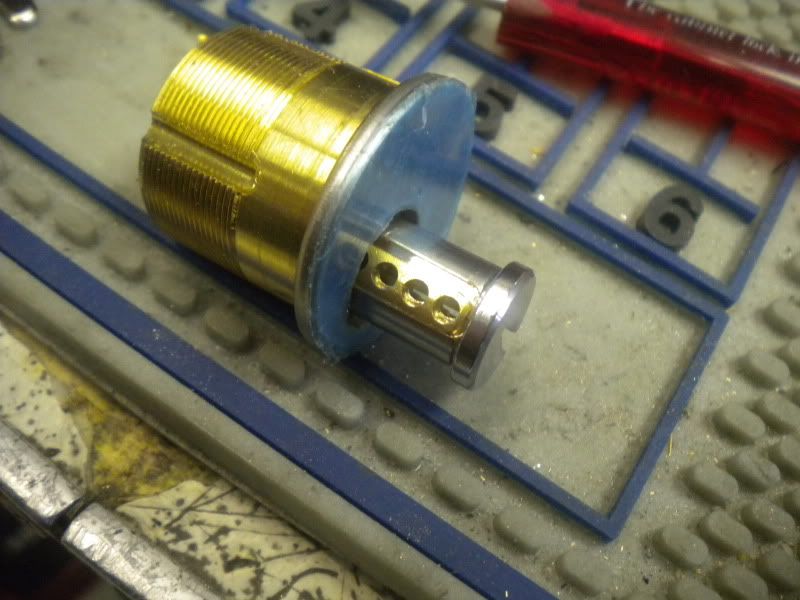 The rest is just how you want to pin them up. I like to be elaborate in my pining and use drunken spools (stacked Schlage T pins). Which then allow me to put a master pin above the springs to prevent any possible overlifting attacks while simultaneously balancing all the pin stacks. That then allows me to use the same size key pin in every chamber (a schlage -2 depth pin), and a master pin to get to the proper depth. Like the one in this cutaway.